Post Frame Building Options
To learn more about each part of our post-frame buildings, click on the corresponding box below.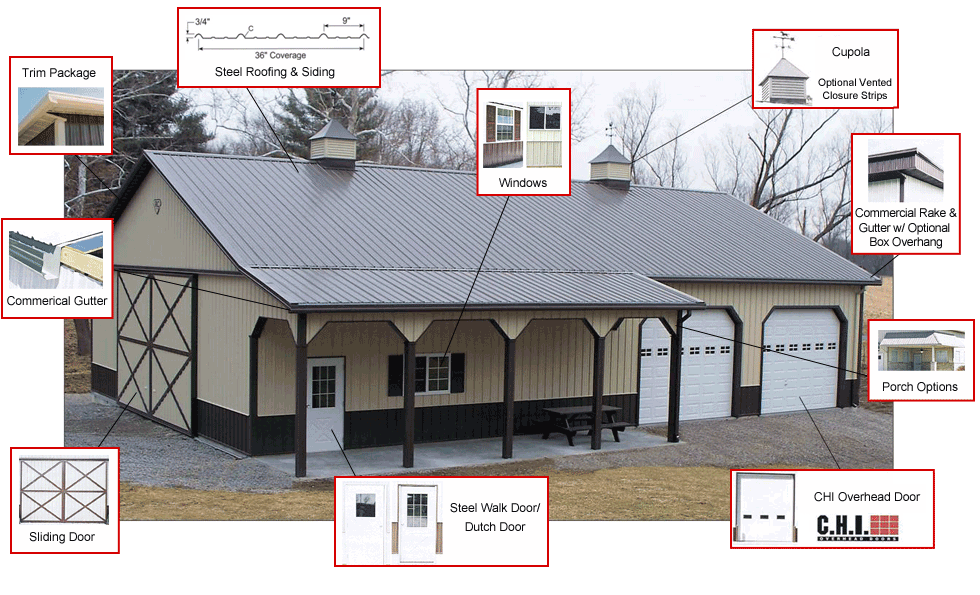 Steel Roofing and Siding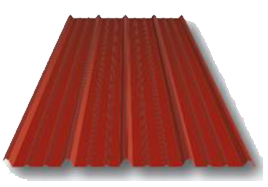 The panels are manufactured from the highest quality steel produced to an 80,000 psi minimum yield strength. Metal Sales panels stand up to any environmental condition. Each time-tested profile has its own unique design to meet a variety of roofing and siding needs. Our standard paint system is an advanced silicone, polyester protection coating that provides outstanding performance against the elements. In addition, the products are back by a written 45-year Paint Finish Warranty and 30-year Fade-Chalk Warranty that ensures long term beauty and dura-bility. This extraordinary paint system is available in a wide range of color choices. Our standard Classic Rib Panel has a MS Colorfast45® Finish, 29 Gauge, 36″ panel coverage and ribs on 9″ center.
Patriot Red, Dark Red and Native Copper are Premium Colors and an up-charge will apply.
American Made Steel
Windows
Horizontal Aluminum Single Pane Window Standard
Thermal Windows
Vertical Single Hung
Screen is Standard
Optional Shutters
Optional Internal Grills
Cupola
Variety of Sizes. colors to match your building. Variety of weathervanes. Attractive source for additonal ventilation.
Optional Vented Closure Strips
For Continuous Ventilation
Commercial Rake and Gutter
Buildings starndard with R.C. Rake and Gutter. More attractive than plain trim used by others. Gives the appearance of a 6″ overhang.
Downspout Same Color as Siding
Optional Boxed Overhang
Specially Designed Trim Package
Bird Tight Seal at end of building.
Porch Options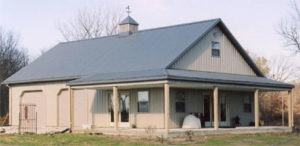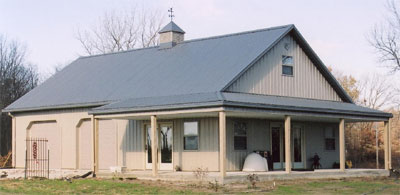 Decorative Post Trim
Optional Wainscot
Mansard
C.H.I. Overhead Door
Variety of Sizes, Styles and Colors
Optional Windows
Optional Operators
Steel Walk Door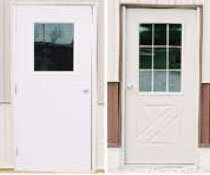 Various Options Available
Solid Panel
22×22 Lite
22×36 9 Lite
22×36 Vent Lite
Crossbucks
Commercial Door
Variety of Colors
Dutch Door
| | |
| --- | --- |
| | Variety of Colors available to match building. Jamb is formed from a single sheet of steel (no seams for added strenth and appearance. Heavy Duty Hinges are Extra Strong and Bolt into Door Panel. |
Sliding Door
Trim Colors to Match Building
Optional Crossbucks
Commercial Gutter
Unique Gutter goes on before roof steel. Designed to eliminate worry of snow and ice slide. Larger to carry more water.
Optional Thermax™ Insulation
Insulation and condensation control.
Fire Rated Insulation.
Trim Package
Trim available in all colors. Lengths up to 20′ long eliminating splices.
Optional Overhang
Specially Designed Trim Package
Construction Details and material specifications shown are subject to change without notice. For more information on available options please give us a call at 618-466-6337.